Let's Ride.
Whether you're a seasoned rider with years in the saddle, or someone who's only sat on a bike and made "vroom-vroom" noises, TR can teach you the fine art of motorcycle riding.
As the #1 MSF school in Central Texas, we've introduced more than 35,000 folks to the joy of riding. With locations in Austin, Buda, Taylor, and Killeen, we provide both new and experienced riders professional, top-tier coaching you need for safe, confident riding. It's what we do… and what we do best.
Please take a bit of time to explore our site. It's full of in-depth info as to which class is better suited for you, what you can expect, and how to ensure you have a fun, rewarding experience. Also visit our FAQ section for most questions you may have. We are always here to help and make learning to ride an experience of a lifetime!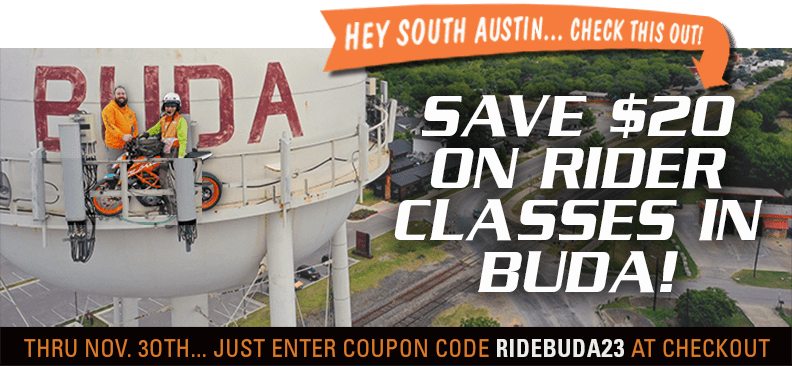 ---
MSF CLASSES

:  For both New and Skilled Riders needing a Texas "M" license.

Certified by both Motorcycle Safety Foundation (MSF), and Texas Department of Licensing & Regulation (TDLR)

Basic BRC : for New, Inexperienced Riders


The Basic Rider Course BRC is your path to getting started on two wheels. The class consists of an in-home, online learning component, and approximately 11 hours of motorcycle training over two days. Check out this great video showing what you can expect in your course: WOT's EPISODE 47

Intermediate BRC2 : for Skilled and/or Returning Riders
The one-day Intermediate BRC2 is the perfect option for skilled riders who not only need to ride legal, but also want to sharpen their street skills. Consisting of an in-home, online learning component, and approximately 6 hours of rider training, participants may also elect to use their own properly maintained motorcycles.
---
And, for EXPERIENCED RIDERS Looking for a Real Challenge…

ART : Advanced Riding Techniques (non-MSF course, M license required)
TR's ART course is offered exclusively to seasoned riders who want to test the limits of their riding abilities, on their own bike. ART instructors provide the skills and confidence for pro-level turning, braking, and cornering… similar to motorcycle officer training. For a glimpse of what we're talking about, check out this awesome vid!
---
Got Gear?
Shop our affiliate partners for great deals on helmets, gloves, jackets and other top-line riding apparel and accessories!